DVaree Mai Khao Beach, 128/2 Moo 3 Tambon Mai Khao, Amphoe Thalang, Chang Wat Phuket 83110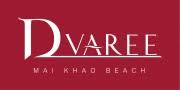 We've ended up in Mai Khao for a week, currently staying at the D'Varee hotel. I say 'ended up' as this certainly wouldn't be a location I choose to stay at, but Beven has a STCW Marine Course at the Phuket Yacht Haven and this was the nearest hotel we found within budget. As this is the second hotel we have stayed at in the past week of being in Phuket, I thought I'd do a Phuket Hotels Reviews post…you're welcome!
(note the other reviews will be posted separately).
Welcome/Reception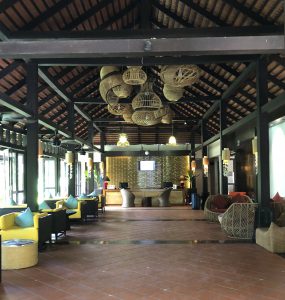 Whilst I'm not one of those ignorant travellers who expects everyone everywhere to speak English, I do expect receptionists in hotels to speak English, as its their job to check-in international guests, and being able to communicate generally helps to facilitate this. We were greeted by two girls who really struggled to understand us, although we did get there eventually and they started the process of collecting our passport information and putting together little coupons for WiFi information, discounted massages and breakfast info etc. We were presented with two tiny glasses of heavily-iced orange juice (this was highlighted in our price deal as 'welcome drink') and one room key card. We politely requested to have a second room key as there were two of us in the room and we were doing separate activities each day. We were told 'one room, one key'. Sorry, not sure you understand, we need a second room key please, two people, two keys. Again 'sorry, one room, one key, or pay THB500 deposit for a second'. Are you kidding me? Of all the hotels we have stayed in collectively (I'd say this would almost go into thousands), we have NEVER had to pay a deposit on a second key – its a piece of plastic?! They called their manager. We argued, they argued…eventually we paid. Not a great start!
Oh, and the sign on their reception desk 'no spitting, no making noise, no durian' was a lovely welcome too…!
Eventually, we get led out the back and loaded into a tired-looking buggy with our suitcase and driven the 20m to our room (not sure why we needed the buggy – it's not been seen since!).
Accommodation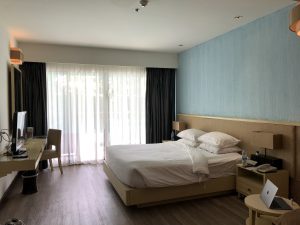 We walked into the room and were pleasantly surprised by the size and it having direct pool access. The suitcase bench is actually big enough for our case to fully open, we have a fridge (empty), kettle and very basic tea/coffee supplies. Two small bottles of water are provided complimentary. The wardrobe has dressing gowns and slippers for our use and iron/board and safe.
There is a desk and chair, next to the television. A sofa and small table is in the corner and bedside tables have large lamps and an electronic box to control all the lights in the room and the air conditioning unit – a nice touch.
The bathroom has separate bath from shower, and the shower has a rain head as well as removable regular shower head. There are two bright green pool towels – interesting choice of colour – as well as standard white bath towels which are looking a little old and in need of replacement.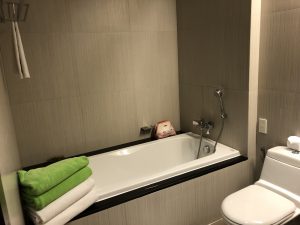 Toiletries provided are basic, shower gel, shampoo and body lotion plus shower cap and 'vanity' box containing cotton tips and cotton wool pads.
Overall, its ok. The yellow paint job on the cupboards doesn't quite cover the paint beneath it and isn't the most attractive colour. The brown sofa isn't particularly appealing either, but nice to have, and the table isn't very inspiring.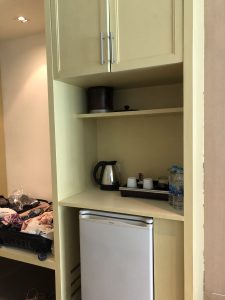 However, let's talk about the most important part – the bed. Definitely up there as one of the most uncomfortable beds I've ever slept in! It's like a piece of concrete. After two nights of very little sleep and our backs screaming at us, I went to reception to discuss. Again, the girls didn't understand me, so the manager had to be called. I told him our issue and requested we either move rooms if there are better mattresses elsewhere, or be given a couple of doonas/duvets for us to sleep on. He didn't look in the least surprised at my complaint and informed me that Housekeeping would look after it for us.
After two further calls to check that Housekeeping were actually coming to make up our room (this was at 4.30pm) they finally came and put a mattress topper onto the bed, not quite big enough to cover the surface, but it was an improvement…slightly. We're surviving by having massages to try to undo the damage the mattress is causing, and counting down the days/nights till we get home to our own bed again.
Oh, and don't try to leave your THB500 room key in the power slot to keep the AC going when you head out…Housekeeping will remove it…and occasionally take it altogether, resulting in more charades with staff to try to get it back again.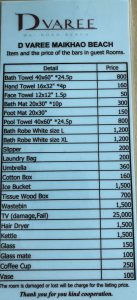 The other lovely touch is the price list for every item in the room…in case you were thinking of stealing that wooden tissue box holder, that will be THB700 please. The TV, a mere THB25,000 (how big are guest's suitcases?) and even the laundry bag has a THB200 price tag on it. Seriously.
Restaurants
The main restaurant at the hotel is called 'Seven Seas' – very appropriate for us cruisers! We looked at the menu on our first day and were impressed at the extensive options and reasonable pricing. We returned that evening for dinner and ordered a pork Laarb and Thai Beef Salad; both were delicious. They also have a 'happy hour' on cocktails which made them good value, although I'm not sure where they got their recipes from as the Mojito bared no resemblance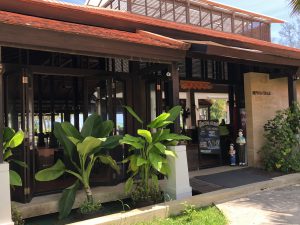 to any I've had before!
We returned the next morning for the buffet breakfast. This was the first time we'd seen another guest in the hotel – a Chinese family. We took a seat in the restaurant, not finding a fan or any AC in the open-sided venue which was already around 28 degrees at 10am, and then checked out the offerings.
After opening several of the randomly labelled bain maries, and peering into a few baskets, I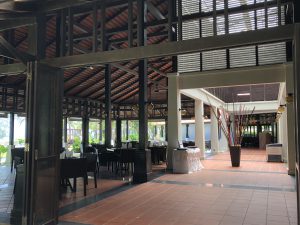 returned to the table with a frankfurter, a fried egg (likely fried about three hours prior) and what I had assumed to be a steamed pork bun…with no pork inside. Beven returned with a similarly pitiful plate, containing a couple of slices of toast and fluorescent-coloured strawberry jam. We weren't impressed. This had cost us about $15 each. After about five minutes of picking at the lame food, we got up and left, quickly chased by very apologetic staff to sign the docket, advising that we could have got it cheaper at reception if we'd pre-ordered, and that a large group of Chinese had been in before us (implying maybe the reason for the remnants, but didn't explain the overall lack of options). We told them we'd not be back…!
Moral of the story – stick to the restaurant only for dinner! Even for lunch I was given a largely reduced menu and received a 'Chef's Salad' with only half the listed ingredients in it.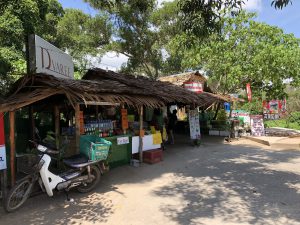 Better off heading out to the cafes down the road for meals, a two-minute walk, cheaper and great quality.
There is a room service option with pizzas and grilled sandwiches, but we haven't bothered to try it.
Facilities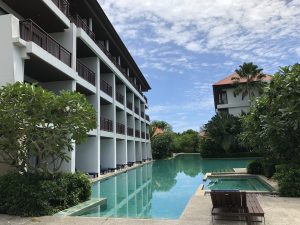 There are three swimming pools on-site. The one we have direct access to is the largest and has two blocks of accommodation facing it. There is a jacuzzi section, but for the life of me I can't work out how to turn it on. Whilst the water is clean, warm and monitored daily, the sides all need some attention with broken tiles all around. There are ladders shared between two rooms although they aren't very long.
The other pool is for the first block of accommodation and the third is between the Seven Seas restaurant and the beach.
There is a basketball court next to the third pool, in front of the beach too, although it doesn't look to have been used in some time. There is also a gym with a treadmill, cycle and some free weights, but it was about a hundred degrees when I walked in and all equipment was unplugged.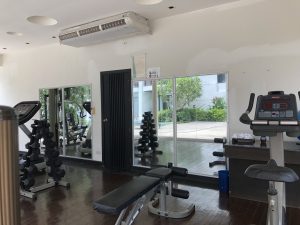 There is a Spa with full price list available outside. We were given 2 x 15 minute complimentary massage vouchers on arrival – obviously to encourage more spend. Pricing is quite a bit higher than nearby spas, as expected.
There is a Lounge area off the main reception which has a drinks fridge in it selling bottles of water, sodas and beers, all quite reasonably priced. If there were more guests staying here, I'm sure it could be a nice area, but instead the fridge has a padlock on it and we never saw anyone use it.
We made the mistake of putting in laundry one day – another mission with lack of English. It took three phone calls to request the pick-up and after asking several times what the cost would be, (the 'special' in the room said 50% off…but off what?) we finally got it collected, I gave up finding out the price, and when it hadn't been returned in the five hours as promised, we called (about ten hours later) for delivery to discover our small bag of undies and t-shirts had cost about AU$30! Again, I thought this was Thailand (usual cost about AU$5!). Sigh.
Location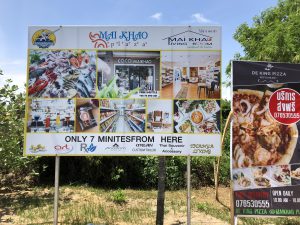 If you are someone who enjoys just chilling on a beach or beside a pool all day long, then maybe this is a good location for you. If
you like to have any type of activity to amuse you, this is not the location! There is absolutely nothing around here. We googled the Mai Khao Plaza which was advertised on a billboard outside the hotel with 'free shuttle' and a phone number…the number doesn't work and reception informs us there is no free shuttle. Ok, let's grab a taxi, its only seven minutes away. Start of the next saga, the taxis have an absolute monopoly here and charge insane prices, that seven minute drive was THB500 (approx AU$25) one way! Reminder, this is Thailand…right?! The receptionist tells us that for THB800 we have the driver for three hours who can bring us back. Ok, so let's go to the Plaza, won't be too long there (there's only a handful of shops), then the driver can take us on to the Yacht Haven for Beven to start his course and drop me back to the hotel – sorted. Or not. The driver cannot do two stops, the THB800 is for one drop-off and return only. But its only five minutes away to the Yacht Haven and the whole trip will be around two hours, not three…nope, no can do. That will be THB1000. Yep, by this point we were two very angry guests, who had no option but to pay or simply not go. Not surprisingly, at the Plaza we checked out the cost of a motorbike which Beven hired for the rest of the week for approx AU$14 per day.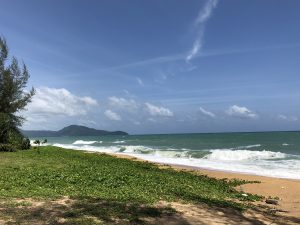 Anyway, that little incident aside, the hotel is directly on the beach front, and although its not the softest sand (broken shell) it is completely empty 99% of the time and also the longest beach in Phuket. That said, I went back down this morning to take more photos and the rubbish that has been washed up is disgusting!
There are a few little cafe/restaurants just outside the hotel which have a wide variety of options and everything we tried was delicious. There is also a mini-mart next door for any toiletry/grocery basics you may need.
The hotel is also close to the airport, so if you want a 'drop-and-flop' holiday, this is perfect! The only other attraction I can see in the vicinity is a 'Splash Jungle' water park.
If you want to go on to Phatong Beach, its about 75 minutes by taxi/Grab, and reverse direction was THB1100 (which makes the taxi incident above even more ludicrous…!).
Let's wrap this up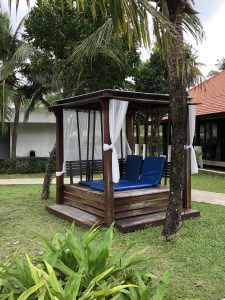 This hotel is one of those places that I really want someone to come and change the management and throw a lot of money at. It has so much potential, but hasn't been kept up to date and has some really bad policies and just a feel that guests aren't all that welcome.
The structure works, the pools are great, having pool-access rooms is fabulous, the size of the rooms are perfect…but it just needs a complete overhaul. The price is reflective of this, and the emptiness of the resort also reflects its condition. Beven met a guy on his course who changed rooms here three times and finally checked out to stay at a nearby AirBnB. If we hadn't already paid the non-refundable fare, we would probably have done the same.
I hope you found this review to be useful, please feel free to give me any comments or feedback, I'll always reply!