With so many cruise lines available these days, it's can be a minefield to work out which is the right one for you. As I have mentioned in previous posts, the main complaints I used to hear were due to customers booking a cruise which wasn't right for them. It's a bit like booking a hotel, if you like the finer things in life and are used to Hiltons and Intercontinentals, you're not going to love a stay in a Travelodge! So I'll try to unravel the mystery here and compare cruise lines for you – although my disclaimer is that I'm writing from personal opinion and my 6 years of experience from working in the cruise industry, my views are not that of any cruise line and I welcome discussion if you disagree with any of my comments.
Where to start?
Cruises aren't subject to star rating as hotels are, but I'm going to put them into these brackets as if they were, just to simplify things. There are also so many cruise lines around the world, so I will just focus on the main ones for English-speaking guests.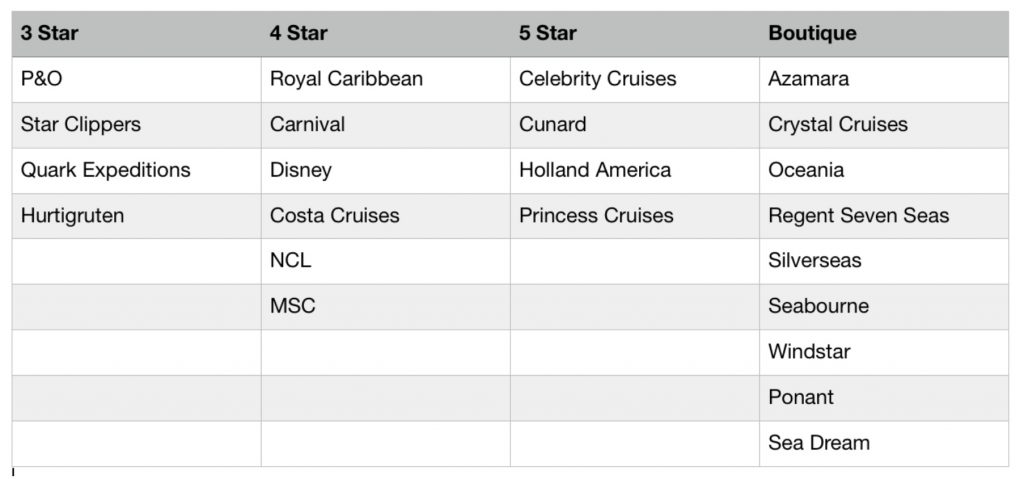 Ok, I get the star rating, but what are the demographics?
Perfect question, this is where people tend to go wrong. A star rating doesn't tell you the target audience with regard to age bracket, family-friendly etc so let me compare cruise lines this way too.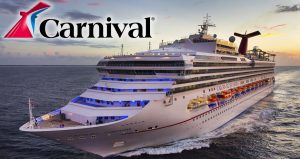 P&O, Carnival – Similar target audience, families wanting lots of activities and entertainment, adults who enjoy their drinks, opportunities for costume dress-up on themed nights, popular with hens and bucks groups, party groups, schoolies etc. These are your 'fun' family ships, you are likely to come away with a decent bill at the end though as particularly with P&O, you don't have many inclusions, and Carnival doesn't offer drinks packages.
Royal Caribbean, NCL – These are your family friendly ships, but with a greater appeal for all markets, which can be narrowed
by ship. For example, Royal Caribbean's newest and biggest ships (Oasis and Quantum class) are loved by families and couples under the age of about 50, but they're not so popular with an older generation. However, Radiance and Voyager class (and smaller) are loved by older and younger generation alike due to the variety of activities available. If you have kids, particularly older kids, you can easily lose them for hours as they enjoy ice-skating, bumper cars, simulated sky-diving, rock climbing etc as well as the option of the kid's clubs. You won't find big party groups as you would on P&O and themed nights are more low-key and not announced in advance so no costumes are required although they do have Formal Nights. There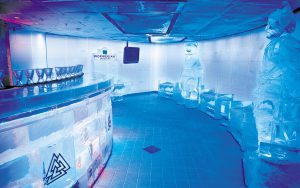 are several complimentary dining options as well as specialty restaurants with varying price-points. NCL are similar, their newer ships have more family friendly activities on board than their older ships do. Both cruise lines have a lot of inclusions and offer drinks packages as well as offering several Specialty Restaurants for guests who enjoy their fine dining. NCL's key selling point is 'Freestyle' cruising, which is mostly directed at their dining program allowing guests to eat where they want, when they want, they don't have set seating or fixed dining times as most cruise lines do (although Royal Caribbean also offers this as 'My Time' dining). Other key features for NCL are their Svedka and Inniskillin Ice bar, where seats, walls and tables are all made from ice, The Plank, which allows guests to walk 8 ft over the side of the ship (eek!), and their late night deck parties 'White Hot & Glow). Both cruise lines offer single staterooms in their newest ships which is a win for single travellers usually hit with a 200% booking cost.
Princess, Holland America, MSC, Celebrity Cruises, Cunard – I debated putting these together, but I'll point out the
differences as well as similarities. From an age group perspective, I see them as similar, although MSC and Celebrity whilst attracting a 60+ market also attract younger couples (Celebrity has a wide reach from 35yrs due to her modern style and sophisticated but energetic nightlife on board). They all have facilities for children, but they are not focusing on this market, you are likely to find a kids club and arcade but not much more. If your style of cruising is more about learning bridge, or ballroom dancing, enjoying a quiet drink with live music before choosing from a vast array of international cuisines, then Cunard or Holland America would absolutely be the cruise for you. Princess can again be ship dependent; having cruised on Sun Princess myself I am in no hurry to cruise with them for another 20yrs or so (although I became an expert at Shuffleboard!), but Beven has cruised on Diamond Princess and some other newer ships and really enjoys them, so I think you need to be selective here too. You can choose a complimentary beverage package on Celebrity if you book an oceanview stateroom or above. Princess offers packages for 8 nights or longer. Holland America has several beverage options, some are ship dependent. MSC have a range of beverage package options and Cunard only offer a soft drink package.
Boutique Cruise Lines – yes, I'm putting these altogether, as they target a very similar market. Boutique is under 800 guests,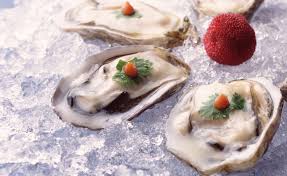 much smaller in some cases. They are targeting the more affluent cruiser who is travelling with their partner or often alone. Whilst Viking Cruises prohibit children, the others simply don't have an appeal for them. These cruises are generally more focused on the itinerary and in my opinion, they have the best because of their smaller size allowing getting into the smaller ports which the larger cruise lines can't enter. They also tend to stay overnight or late at night so guests can really get a feel for the destination by enjoying a local restaurant or perhaps the Opera or a Theatre Show. These guests will receive the highest level of service and enjoy the most exquisite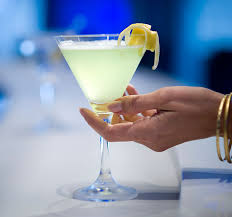 dining experiences. Often this will attract first time cruisers who don't like the thought of sailing 'en-masse' or to river cruisers wanting a different experience. These ships have more inclusions too, alcohol is a given, although some may charge for the 'top shelf' brands. Some will have shore excursions included, some are extra – but this is usually reflected in the price point. Boutique cruisers are generally independent and still very active, they want to explore, meet new people and enjoy learning new things. Do check to see what the dress code is for each of these cruise lines. Some require a more formal dress at all times and some are more relaxed. Azamara actively promotes herself as being 'country casual' which many guests love as it makes packing much lighter!
What about destination?
Destination can absolutely have an impact on a cruise's demographic. For example, New Zealand attracts an older market than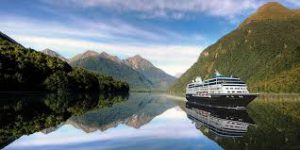 the South Pacific which is more family driven. We find more families on Celebrity Cruises in Europe than we do in Australia. Alaska also attracts an older market, regardless of the brand, presumably due to the cost factor in flying a family that far. South America and Galapagos likewise.
The ships within the same brackets tend to cover the same ports and similar itineraries. There are a few exceptions to this, for example NCL has the monopoly on Hawaii island cruises, and only ships under approx 1,500 guests (I can't track down the exact number) are permitted to dock in Cuba.
Some cruise lines will also offer longer cruises than others and some do World Journeys. Generally you will find the Boutique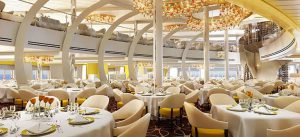 Cruises do the longer sailings, although Princess and Cunard are also known for their World Journeys. Royal Caribbean, Celebrity Cruises, P&O, Carnival, NCL will generally do less than 12 day sailings aside from their repositioning cruises and P&O does a lot of 3-5 night sailings. It's also worth noting that when ships do 'sampler' cruises or shorter than their usual, this will again attract a different market from their norm, as the lower price point opens them to an audience that would usually not be able to afford them.
Let's wrap this up!
So hopefully being able to compare cruise lines in this way has helped you decide which is the best cruise for you. There are always many variables and although selecting the cruise line is the first step, you do need to then go further into selecting the correct ship within that brand that will be suitable for you.
I've written more in-depth posts on each of the following brands which you may like to check out:
If you would like to ask any questions or offer advice, please do so in the comments below, I look forward to hearing from you!