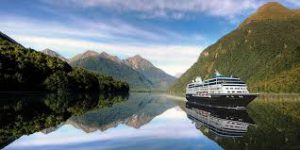 As one of the newest and smallest cruise lines around, you'd be forgiven for not having a clue who Azamara Club Cruises are. When I tell people that they are owned by Royal Caribbean, it seems to give a little more recognition…and then to put them into the same basket as Silverseas, Seabourne, and debatably Viking, you will probably start to get more an idea of what these ships are all about.
A bit of history
The Azamara ships are 'R' Class, also known as the Renaissance Class, of which there are 8 cruising around the world. Azamara 'Quest' and 'Journey' are numbers 6 and 7 and they have more recently purchased the newest, number 8, to be named 'Pursuit'which will launch in August 2018 in the Med.
The parent company RCCL purchased Quest and Journey from acquired Spanish-based cruise company, Pullmantur in 2007, originally to be an addition to the Celebrity Cruises brand. However, it was quickly realised that these ships had the potential to be an exciting new brand, and so Azamara Cruises (later amended to Azamara Club Cruises) was born.
It's an unusual name for sure, and one many struggle to pronounce…so where does it come from? Well, it's made up! The obvious links are to blue (az) and the sea (mar). Also inspired by the Acamar star which in Classical times was the most southern bright star that could be seen from the latitude of Greece, and Azamara likes to think of herself as a star on the blue sea.
What makes Azamara different?
Azamara Club Cruises is a cruise line for the discerning traveller who wants to truly immerse themselves into the destinations visited. The ships are small enough to get into the ports which the larger ships can't, making the itineraries really appealing. She also stays in ports overnight and late at night, allowing guests to experience cities when other cruise lines have departed, such as night markets or a local restaurant or theatre etc. The ships also move constantly around the world, so you can stay onboard for as many cruises as you like to cover as much of the world as you desire. The second part of a 'back-to-back' will always be discounted.
Another unique selling point for Azamara Club Cruises is the AzaAmazing Evening which is offered complimentary to all guests on most cruises. These are a money-can't-buy experience arranged on shore which guests will be talking about for years after. You can look up what the evening entails for each sailing on their website. I was lucky enough to attend one in Newcastle, Australia, where guests arrived at Fort Scratchley, overlooking Nobby's Head, to trays of drinks and canapes whilst soaking in the panoramic views, before being treated to an exclusive performance by local artists including the renowned Jazz performer, James Morrison.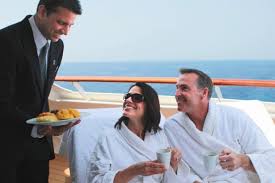 The evening was capped off by fireworks over the harbour with a spotlight beaming down on the ship, before guests were escorted back to the ship. Certainly an evening I'll never forget.
When asking loyal guests why they choose Azamara, the overwhelming response would be 'service'. The staff on these ships truly know how to make a guest feel welcomed, valued and a part of the family. It's not a stuffy white glove service, but an authentic, friendly and caring kind of service.
What's included?
Azamara is an inclusive cruise line, meaning you won't be paying for much once onboard. This includes numerous dining options, most of your beverages (includes alcohol, although you'll pay a small supplement if you want the top-shelf drinks), barista-made coffees, bottled water, all entertainment, self-service laundry, English butler service for Suite guests, fully-equipped gym, daily activities and shuttle transfers into city centres from most Ports. Gratuities are also included.
Where do they sail?
With 2, soon to be 3, ships in the fleet, these ships cover the majority of the world. They don't have any one 'home-port' like most cruises do, they just continue to sail, making them perfect for building your own extended itineraries. You simply stay on for as long as you like, covering more continents. Being the small size that they are, they were one of the first to get into Cuba, and have some really fabulous Cuba intensive itineraries, combined with the Caribbean. They also do some great European itineraries, Norwegian Fjords and from July 2019 Azamara Quest will be visiting 11 ports along the stunning coast of Alaska.
Give me the lowdown on food
For a small ship, you have a great selection of dining options on Azamara to suit your mood or plans.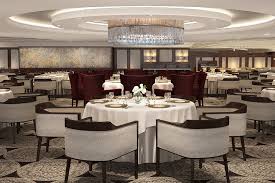 Discoveries Restaurant is your main restaurant where you can choose to dine in a couple or a share table.
The Patio and Swirl and Top. The Patio is a casual pool grill by day and al fresco dining experience by night. If you fancy something sweet, Swirl and Top is a self-serve frozen yogurt bar with a selection of flavours and toppings, to cool down at the end of a day.
Windows Cafe is a truly international restaurant, featuring cuisines from around the world, with a focus of the part you are currently in. It is casual in style and the menu changes daily.
Mosaic Cafe and Mosaic@Night, for casual dining and snacks. This is also a great place to sit and enjoy your favourite coffee either to start or to end the day.
Specialty Restaurants – Aqualina is a beautiful Italian fine dining restaurant and Prime C is a steakhouse restaurant. These are charged at US$30 (subject to change) for guests, except for Suite Guests for whom these are complimentary.
In-room dining is also available 24 hours a day. Think big breakfasts, hearty soups, healthy salads, pizzas, sandwiches and desserts.
Dress Code – generally speaking, smart casual is how guests roll on Azamara. Think Country Club/Resort style, you're not required to wear ties and jackets unless you choose to. Although guests will dress up for Discoveries Restaurant and the specialty restaurants. There are no formal nights on Azamara. As my colleague and Sales Manager for Azamara used to say, "She's five star without the la-di-da"!
Don't forget to pack something appropriate for the fabulous White Night too. This is a much-loved evening, where the ship's officers and crew will serve you out ondecks 9 and 10 which is turned into an outdoor restaurant/buffet. This feast will turn into a party not to be forgotten!
Most dietary requirements can be accommodated, but you will need to advise them at least 40 days in advance of the sail date.
Tell me about activities and entertainment
Whilst you're not going to find any ziplines or bumper cars on Azamara, there is still plenty to keep guests entertained. They run an Enrichment program which includes seminars and lectures from the ship's own onboard experts with open Q&As;, culinary demonstrations, wine tastings hosted by their own sommelier, port-of-call lectures including their Cruise Global Connect Local program and if you need a little help with your IT skills, you can join an Excel, Powerpoint or Photoshop class (for a nominal fee). Of course, there is plenty of shopping to be done onboard if that's more your thing, and for those quieter days you can borrow one of the many board games.
There is of a course a beautiful Spa and Fitness Centre onboard to keep you feeling energised and revitalised…and to work off some of the fabulous food!
Azamara has had a bit of a revamp of her onboard entertainment recently. Moving away from the previous full stage productions, you will now find a more jazzed up and operatic style of show.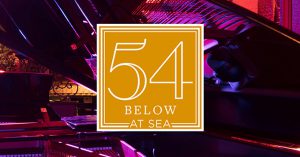 54 Below at Sea is your New York style cabaret featuring iconic entertainers and rising stars for a show-stopping and authentic performance.
Magic City Opera is a social soiree, an engaging experience showcasing the beauty and drama of a classic art form…if anyone is onboard and can elaborate on this for me, please do so in the comments below – I've yet to see it myself!
Of course, you can't go far without hearing live music all around this ship, either relaxing by the pool to a classical guitar, or the sultry sound of a harp whilst enjoying a coffee to dancing the night away to ABBA, it's all there for you.
What are the accommodation options
I am often asked which type of accommodation someone should stay in, and there really is no 'right' answer. It is completely dependent on personal preference and budget at the end of the day. Consider if you're someone who spends a lot of time in their room who may prefer a balcony or suite, or someone who literally just sleeps there, in which case maybe an interior is sufficient. If you think you may be prone to sea-sickness, I recommend a balcony so you can step out into fresh air whenever required.
There are 4 types of non-Suite staterooms on Azamara; Interior, Oceanview, Club Veranda and Club Veranda Plus. All these come with terry bathrobes and slippers, 24hr room service, luxurious bedding with duvet/doona, welcome fruit basket, fresh-cut flowers, tote bag, turn-down treats, complimentary use of binoculars and umbrella and 'About Rose' toiletries. Note that some of the oceanview staterooms have an obstructed view due to the lifeboats.
If you prefer the Suite Life, you can choose from the Club World Owner's Suite, Club Ocean Suite, Club Continent Suite, or the new Club Spa Suites. These all come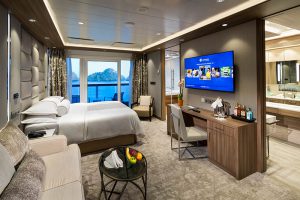 with English-trained butler service, complimentary specialty restaurant dining, complimentary laundry service (one bag per 7 days per suite) and complimentary internet (235 minutes or $150 credit towards a full voyage package).
For the ultimate in unique experiences or to celebrate a special occasion, you must book the 'Nights in Private Places'. Only available to be booked onboard, you will be treated to champagne and canapes whilst in the private retreat at the back of the ship, before being served fresh seafood and meats cooked on a hot stone by your private butler. Enjoy the spa to yourselves, surrounded by candles, whilst the butler will arrange turn-down (or close the roof panel and curtains if preferred) before you retire to a stunning night under the stars. A truly memorable experience not to be missed.
(US$395 per night at time of writing this).
Let's wrap this up!
So by now, hopefully Azamara has taken on a whole new meaning for you, and is no longer 'Aza-who?'! With 9 out of 10 guests returning to cruise again, I'm always really confident in recommending this boutique cruise line to everyone within her target market. She's not for everyone, and she's not at the cheap end of the market – nor should she be. You won't find kids running around, in fact, you're unlikely to see any at all. This isn't your 'family cruise' ship, the average age of guests is around mid-50s upwards, depending on the voyage, and the mix of nationalities now sees Australians picking up third majority after the US and the UK. English is the first language, although staff are from many countries and most literature is printed in several languages.
If you're looking for a cruise which will allow you to really explore your destination, take you to the best ports and stay late/overnight, whilst sailing in a warm and friendly style of luxury, Azamara Club Cruises is a must for you!
As always, I really appreciate comments and feedback, so please do post below and I'll always respond. Thanks!