You may have already read my post on Royal Caribbean Cruises in Australia, so it made sense that I covered a similar topic – Celebrity Cruises Australia. Did you know they are part of the same company? Many people still don't. Royal Caribbean Cruise Lines (RCCL) is the owning company of Royal Caribbean International (RCI), Celebrity Cruises (CEL) and Azamara Club Cruises (AZA).
Ok, so let's talk about Celebrity…
Who Would Cruise With Celebrity Cruises?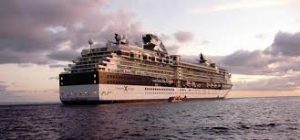 Celebrity has a more targeted demographic than her sister at RCI. Cruises don't officially have star ratings, but if they did, Celebrity sits very comfortably in the 5 star basket. Now, there are many cruise lines in this category, but you can subdivide these into either appealing mostly to a much older market (think Cunard, Princess, HAL etc) or into the 'boutique' market which are the smaller ships, usually less than 1,000 guests.
Celebrity Cruises is unique in that she targets mostly affluent couples, from 35yrs upwards, who like the finer things in life and enjoy a modern luxury lifestyle. They may have children and there is a kid's club on board catering for all ages, but this is not a family focused cruise line as Royal Caribbean is. Outside of the kid's club and arcade, there isn't too much for the kids to do.
Celebrity currently has 2 classes of ships, Millennium Class and Solstice Class. Millennium carries 2,138 guests and the largerSolstice carries 2,850. Although Solstice is the newer class, Millennium had a major refurb in 2016 to bring her more in line with Solstice and having cruised on her shortly after this renovation, I can confirm that she is looking absolutely beautiful! For Celebrity Cruises Australia, Solstice is the home ported ship and she's fast become a favourite with Aussies, continuing to win award after award, year-round.
Why Choose Celebrity Cruises Australia?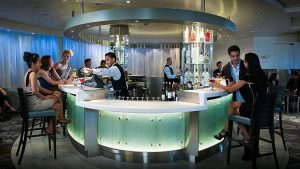 If you're a first-time cruiser worried about too many kids, or being in a cramped space, or eating bad food, you're in good hands with Celebrity Solstice! The ship is very light, spacious with big open spaces. You never feel like there are lots of guests on board. There are as many options for relaxation as there are to be active, so you can really choose as the mood suits you. In the evenings, you can party in the Martini Bar (frozen bar where the waiters throw cocktail shakers around in an impressive show!) or you can join in with the Silent Disco (so much fun to watch when you're not wearing the headphones!). Opposite you have Cellar Masters to cater to all your wine's desires or you can head up to the Sky Observation Lounge for some live music before the DJ comes on. Of course, if you prefer to relax in quieter surroundings, you have many other bars and Lounges where you can do this too.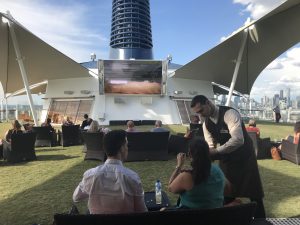 Another one of my favourite things to do on Celebrity Solstice is the Taste of Film. Solstice has half an acre of real grass on the topdeck – yep, totally real, I've walked many times bare foot and it feels awesome! As well as being able to have picnics, watch live music or play bocce, you can pay a meager US$25 to relax on the lawn and watch a food-themed movie, where the waiters will come out together and present everyone a tapas style dish, matching the theme of the food of the movie! It's very cool and has been rolled out across the fleet due to its massive success.
Now back to that relaxation part…as well as having a beautiful indoor solarium with big hammocks and double sunbeds to lounge on, if you head on through to the Canyon Ranch Spa you will find the Persian Garden. This is a room overlooking the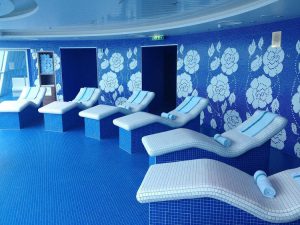 ocean with heated ceramic beds, saunas and tropical showers and is perfect to sweat out any potential excess alcohol consumed…! If you book into an AquaClass stateroom, this area is complimentary for you and also located immediately below so you can glide on up in your complimentary bathrobe without the rest of the ship seeing you. Oh, and another way to get your sweat on is in the extremely well-equipped gym which even has great free-weights (why do hotel gyms never have free weights, just those dodgy multi-gym things that you need a degree to work?!).
Are There Celebrities On Board Celebrity Cruises?
If I had a dollar for every time I was asked this question! There are some pretty awesome guest entertainers on board who could be classed as Celebrities (Beven Addinsall?!) but I think the initial premise was that everyone was treated like a Celebrity. As for the X, (please don't call the ships 'Celebrity X'!) this came from the original owners, the Greek Chandris family. X is pronounced 'Ch' in Greek, so their legacy for the brand was kept alive through the use of the X in the branding.
Talk To Me About The Food
Back to one of my favourite topics. Solstice has arguably one of the most stunningly beautiful dining rooms at sea. It was designed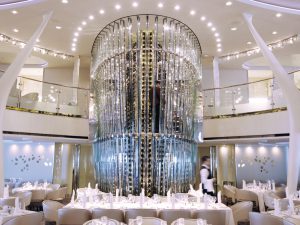 around the theme of a Champagne glass and is modern, classy and features the largest wine cellar at sea. Add the simple but elegant Christmas decorations for the festive season and, well, just wow.
Celebrity ships also have a buffet (the Ocean View Cafe) serving every type of food you can possibly think of which is open most of the day and has an open deck out back if you enjoy dining Al Fresco.
And then we come to the Specialty Restaurants – these really must be tried. The favourite is still Murano's, a gorgeous nouveau take on classic French cuisine restaurant with the addition of a small private dining room for special occasions. Everything from the over-sized gold plates to the ocean views, the mouth-watering food and the exquisite service makes this restaurant worth every cent of the US$50 cover charge (current pricing as I type but may change).
Tuscan Grille has a beautiful entrance as you walk through an arched wall of wines! It has a contemporary atmosphere and serves beautiful shared antipasti platters, pastas and juicy tender steaks.
Silk Harvest is an Asian Fusion restaurant serving family-style food highlighting various flavours from this region.
Blu is the exclusive restaurant for our AquaClass and Suite Guests, vibrant, crisp and bold flavours with a healthy twist, although strangely with a very large beverage menu to accompany it!
Sushi on Five is a newer restaurant, added a couple of years ago to replace Bistro on Five. This is casual sushi restaurant located opposite the Baci Cafe where you can get specialty teas and coffees with a complimentary delicious cake.
Where Do They Sail?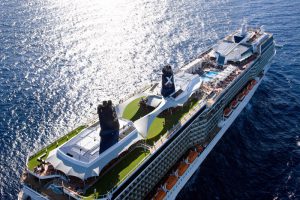 Celebrity Cruises Australia mainly sails to New Zealand and the South Pacific, with a couple of Eastern board sailings in the mix. All sailings depart from Sydney or Auckland.
Outside of Australia, the ships are spread over Alaska/Asia/Bahamas/Bermuda/Canada & New England/Caribbean/Dubai & India/Europe/Galapagos/Hawaii/Panama Canal/The Med/South America/Transpacific.
So pretty much everywhere!
Let's Wrap This Up!
As you can probably tell, I'm a big fan of Celebrity Cruises. The ships are classy, spacious and modern. The service has always been fantastic when I've cruised and is something they continue to raise their standards with. Although some of the food in the Ocean View Cafe (buffet) can be mediocre, the main dining room and specialty restaurants have always been fabulous in my experience. There is an elegance to Celebrity which doesn't carry any snootiness, you don't have to be dressed up all the time (or any of the time if you wish) and you can have fun and a laugh as much as you can relax. What more do you want from a cruise?
You can check out my other reviews here:
I hope you found this post to be helpful. As always, I really value your opinions or questions, so please don't hesitate to drop me a note below – even just to say hello! No doubt I will keep updating this as I think of more things to write, so please do check back soon, thank you!