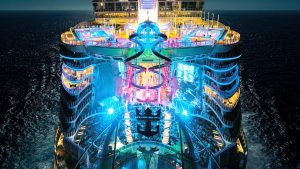 With 24 ships already operating under the RCI banner, it's hard to remember which one's which. So, which is the newest Royal Caribbean cruise ship? Well, Symphony of the Seas will start her service from Barcelona in April 2018, the newest of the Oasis Class ships, and will of course take the title of the largest ship in the world, even if only by a few centimeters!
So how is this one different?
Well, Symphony is a mix of everyone's favourite features from her sister Oasis class but with some very cool additions. Have you ever played Laser Tag? Here's your chance; choose your team, grab your laser tag blaster and get ready for a glow-in-the-dark battle in Studio B!
Want to hang in a sports bar? Playmakers is the new venue featuring numerous TVs to watch your favourite sports, relax with a drink or hit up the arcade.
Bringing the family? The Ultimate Family Suite is something which has to be seen to be believed! Think 2-storey fun house with in-suite slide, private 3D cinema, a
ir hockey table and a bumper pool table on the balcony.
If that isn't enough to get the kids on a high, they can visit the new Sugar Beach on the boardwalk, featuring every type of confectionery treat!
Oh, and following the success of the Ultimate Abyss on sister ship Harmony, you will of course find this thrill-seeking water-slide favourite on Symphony.
What's new to eat?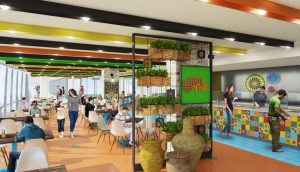 There are a few new options added to Symphony. If fresh seafood is your thing, then you will love Hooked Seafood, a taste of New England. More into Mexican? Check out El Loco Fresh for fast and authentic favourites.
The regular much-loved restaurants are still there too, Chops Grille, Jamie's Italian, Izumi, Wonderland as well as the Solarium Bistro and Vintages.
Entertain Me!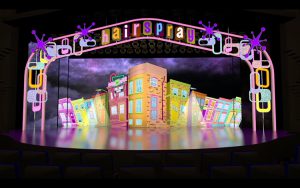 Always a focus for Royal Caribbean, new shows and spectacles have been added. Remember the movie Hairspray? The Broadway version is playing on this newest Royal Caribbean ship.
Take off for adventure with Flight, a unique show that takes you through the history, and future, of flying!
1977 is the new ice-skating show, taking you back in time to join hero Tempus search for Her Majesty's Crown Jewels.
Hiro is the newest AquaTheatre production which will amaze the audience with acrobatics, stunts and more high-flying feats than ever before.
So where will I be cruising?
As I mentioned earlier, Symphony will be starting life cruising from Barcelona to the Med for her first season. Following that she will head to the Caribbean, departing out of Miami. Check out Royal Caribbean's website for full itinerary details.
Let's wrap this up!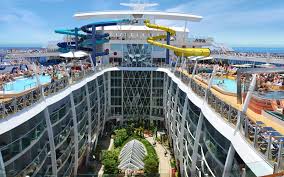 If you've never cruised with Royal Caribbean before, this ship will totally blow your mind! Even having sailed as extensively as I have, I'm excited to hopefully be jumping on at some point. Whilst the ships are big (we are talking around 6,000 guests here), there is so much space that you never feel crowded. There are accommodation options for everyone and all budgets, and despite her cruising through some awesome cities, let's face it, the ship is your destination!
Please let me know what you think, or if you're booked onto Symphony in the comments below, I always love hearing from you!